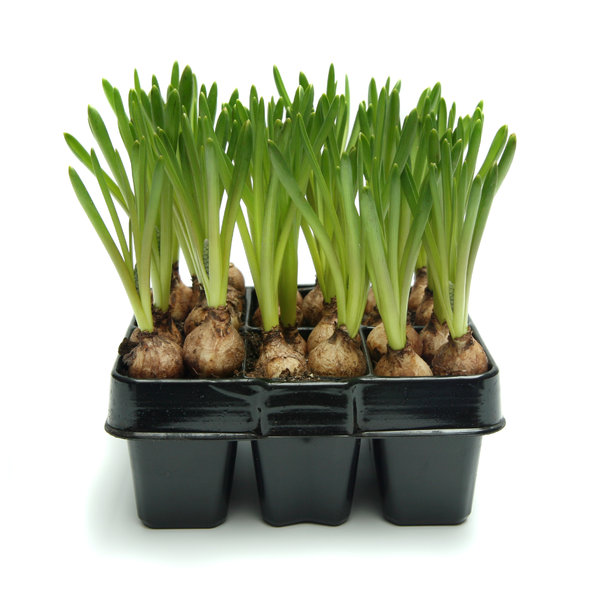 Flowers are one of nature's greatest gifts. Their scent, their colors, their shapes… everything about flowers is beautiful. A colorful, cheerful flower can brighten even the darkest day. Even more enjoyable than looking at flowers, though, is growing them. Flowers can be bought from pots and replanted. They can also be grown from clippings. However, one of the most popular ways of growing flowers is from bulbs and seeds.
Growing flowers outdoors from bulbs is simple; in fact, it is so easy that it's almost foolproof. One of the most important aspects is timing. Bulbs need to be planted about six weeks before the first frost. Bulbs must be planted in an area with good drainage and a lot of sun. Make sure the soil is loose, and then plant the bulbs about six inches in the ground. (Package directions may vary depending on type and location; when directions differ, following your package.) Try to place the bulb in the hole with the pointed end facing up. Cover the hole and water. Voila! You've planted your flower bulbs.
Flower bulbs and seeds make flower gardens accessible for everyone. They can be grown virtually anywhere. One idea is to plant them in containers. With container gardens, even apartment dwellers can enjoy the beauty of flowers. Container-grown flower bulbs and seeds also allow growers to defy nature. Flower bulbs can be planted indoors in any season and in any climate, as long as the indoor conditions are favorable for growth.
Flower bulbs are available in many varieties, such as tulips, daffodils, gladiolus, and crocus.
Because of their relative ease of planting and growing, bulbs of all kinds are a popular flower choice. A wide variety of flower bulbs are available today. Tulips, lilacs, daffodils, crocuses, irises, dahlias, and gladiolus are just a few of the flower bulbs available. Even within one flower family, there are often many variations. For example, there are over one hundred tulips available for fall planting alone.
It would be difficult to house all of the different bulbs in one store, and even more overwhelming for a customer to try to decide which one is right for them. Luckily, stores don't even have to try. Consumers can simply open a flower bulb catalog and see pictures of all of the different varieties available. Many of the catalogs will give all of the pertinent information to consumers—name of flower, colors available, water requirements, sun requirements, geographic area, price, etc. These flower bulb catalogs make it easy for customers to decide at a glance what type of bulb they need.
Jackson and Perkins is a well-known flower bulb catalog company. John Scheepers, Inc. offers a catalog of Dutch flower bulbs. Old House Gardens bills itself as "American's only source devoted to antique flower bulbs." Finally, Van Dyck's offers a catalog of flower bulbs and perennials.
Many of these companies now offer online flower bulb catalogs in addition to or in place of their print catalog. Most also now take orders online and accept credit cards, so it is possible to complete the entire transaction online.
Hiring a good landscaper will make completing your landscape a much simpler process. If you create goals and properly layout your plans for your landscaping you will be able to get specific pricing. Here are some tips on how to hire a landscaper the right way.
1. What do you really want or need?
Some landscapes are beautiful as they are, but the owners sometimes just want to add new appeal to their homes so they opt to have a landscape job done. Be sure that you have already identified what you want in the landscape design. This should be in your preparatory plan before you even speak to a professional contractor. Once you have your plans you can present them to the contractor to see if everything will work and is possible. The blog on paramountlawns.com is a great place to start for your landscaping ideas.
2. Set a firm budget.
Next you should prepare your budget. Will your dream garden be feasible? Is it practical or do you need to make some adjustments or compromises? The best thing is that you know what you want and you are able to identify alternatives if your budget fails to accommodate your vision. With the plans and budget in place things tend to be easier when negotiating with the contractor. The landscaper will ensure that this project will meet your budget and assure that it will look closely to what you are expecting. Be sure to get accurate measurements so that materials do not accidentally go over budget. Some contractors like to give you the best price in the estimate, but find out later that they can't provide all the material at the quote given. Which brings us to the next step, get references!
3. Get references.
Know the landscape companies that you are contacting and negotiate with them. Gauge their level of experience and the quality work by asking for photos or tours of their previous projects. You should also ask for references and their professional affiliations. Make sure the company is a legitimate company and that everything is written down. Without written proof of the agreed upon services it is difficult to prove if you are not happy in the end.
Summary
It all boils down to good planning and documentation. If you have a solid plan and ask the right questions you will end up with an exceptional landscape. In the Sacramento California valley, Paramount Properties is the premiere landscaping company. Visit the website for more information and for services.